Farewell Dinner held for the Nadjarian Family
St. Illuminator's Cathedral members and friends gathered on Saturday, February 4, 2017 at the Cathedral's John Pashalian Hall to say thank you and farewell to the Nadjarian family: Paul, Rachel, Haig, Vahan and Nairi.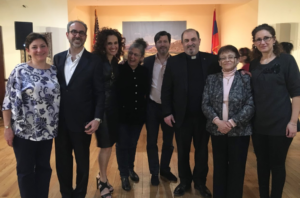 They moved to New York City ten years ago and have been active members of the St. Illuminator's family, contributing to the 219 E. Corp. Board, Sunday School and Ladies Guild. On behalf of the Cathedral, Rev. Fr. Mesrob Lakissian thanked them for their dedicated service and wished them well in their future endeavors.