I lift up my eyes to the hills—from where will my help come?
My help comes from the Lord, who made heaven and earth.
(Psalm 121:1-2)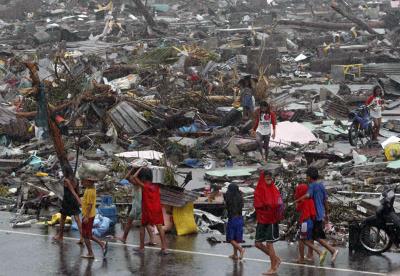 The powerful typhoon that killed thousands of people and effectively obliterated the once thriving city of Tacloban and many coastal towns of the Philippine Islands has left an estimated eleven million people in need of immediate help. Many communities in the archipelago of more than 7,000 islands are cut off from outside communication and the full human toll of dead, injured, and homeless is not yet known.
Archbishop Oshagan has instructed all parishes within the Eastern Prelacy to offer prayers for the souls of the victims and for the safety of the survivors during the Divine Liturgy this Sunday, November 17. Donations for relief efforts should be collected and remitted to the Prelacy immediately. All collected funds will be contributed to AmeriCares on behalf of the faithful of the Armenian Apostolic Church of America for immediate lifesaving aid to survivors of Typhoon Haiyan.
Individual donations may also be sent directly to the Prelacy, 138 E. 39th Street, New York, NY 10016. Checks should be payable to "Armenian Apostolic Church of America." Please indicate "Philippine Relief" in the memo area.
Armenian Prelacy – "Crossroads"