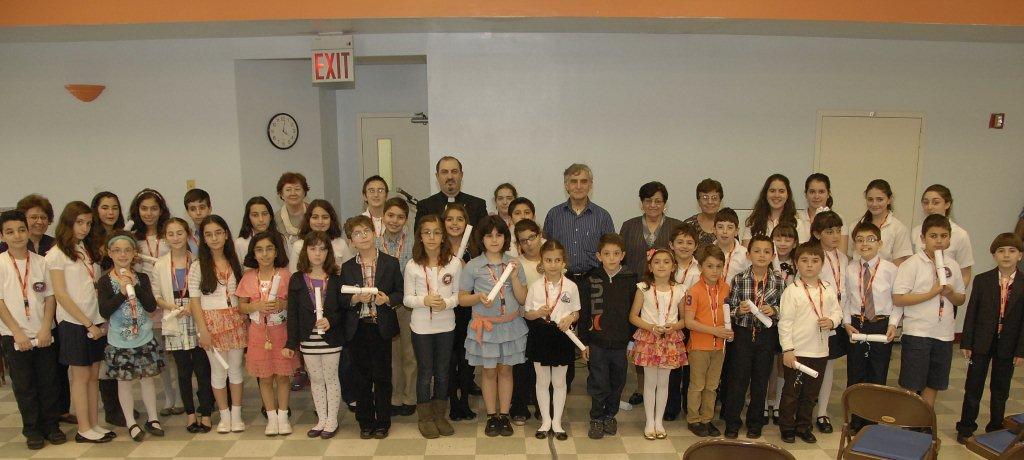 The 43rd annual student competition of the Armenian Saturday and Day schools, organized by the literary committee of Hamazkayin in New York, took place on Saturday, May 5th at St. Illuminator's school.
The participating schools were Holy Martyrs Day and Saturday schools, St. Illuminator's Day school , St Sarkis Saturday school and Nareg Saturday school.
A total of 45 students participated.
The competition includes for , Saturday schools grades 1-4, the meaning of the Armenian words for their English equivalents and for grades 1-4, Day schools, spelling of Armenian words . Two separate lists of general questions about knowledge of various Armenian topics such as history, geography, poetry, name and location of monuments, famous Armenians.. etc. is provided to Saturday and Day schools, grades 4-5. Power point presentation accompanies the questions whenever appropriate.
Certificates and gifts were given to all participants and additional gifts to those who answered all questions accurately.
Rev. Fr. Mesrob Lakissian, pastor of St. Illuminator's Cathedral, efficiently conducted the competition with a touch of humor, pleasing and educating every one.