On Friday, February 3, 2017, the St. Illuminator's Cathedral and the ARF Armen Garo Gomideh of New York hosted a lecture, "Updates on Artsakh: Present and Future," which took place at the Cathedral's John Pashalian hall.
The lecture was presented by Mr. Armen Sargsyan, an ARF member of the Artsakh National Assembly. In his interesting talk, Mr. Sargsyan covered a wide range of issues on the current state of the Republic of Artsakh, which is facing its most volatile period in recent history: the four-day war with Azerbaijan in last April, the peace process, the international recognition, and the economic situation.

Born in 1963 in th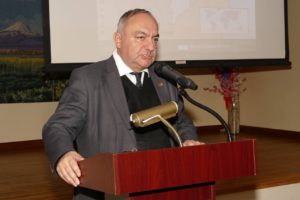 e Martuni region of Karabagh, Mr. Sargsyan graduated from the State Pedagogic University in Yerevan, where he defended his doctoral dissertation, and then returned to Karabakh. He commanded an armed militia that protected his village from 1988. After the Karabagh war, he became a lecturer at Artsakh State University from 1995-98 and director of a historical museum in Karabagh from 1995-97. Afterwards, he became Minister of Culture, Youth Affairs and Sport from 1997-2004. He has been a member of Parliament since 2005.

Mr. Armen Caprielian, Dr. Antranig Kasbarian and Rev. Fr. Mesrob Lakissian also offered their remarks.