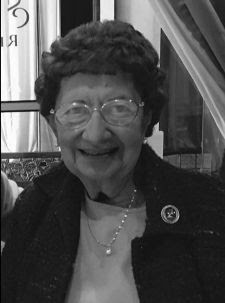 Julia Ishkanian
March 2, 1928 – January 6, 2022

It is with great sadness that the Pastor and Board of Trustees of St. Illuminator's Cathedral announce the passing of Julia Ishkanian, a faithful and devoted, lifelong parishioner of St. Illuminator's Cathedral who for more than seven decades served as Cathedral organist and member of the Ladies Guild. Julia was beloved not only by her family, but the entire St. Illuminator's community and she will be truly missed.
Julia died on Thursday, January 6, 2022. She is survived by her daughter, Linda Munshower, and Linda's husband, Edward, and their daughter, Mary, and her son, Gary Ishkanian, and Gary's wife, Andrea, and their children, Ariana, Nicholas, and Matthew. 

The funeral service will be held on Monday, January 10 at 10 a.m., at St. Illuminator's Cathedral, 221 E. 27th Street in Manhattan. His Eminence Archbishop Anoushavan, Prelate, will preside. The family has asked that the funeral service be closed to the public and instead be live streamed.
 You may click here to access the Livestream
 The interment service will take place at Cedar Grove Cemetery, 130-04 Horace Harding Expressway, Flushing, New York and will also be private.

The family has requested that in lieu of flowers donations be made to St. Illuminator's Armenian Apostolic Cathedral, by check or by clicking here, or to The Shriners Hospitals for Children, by clicking here. Աստուած Հոգին Լուսաւորէ
May God Illuminate Her Soul Julia was born on March 2, 1928 to Baghdasar and Mary Aylaian. She grew up with her older brother, Michael, in the New York City neighborhood of Hell's Kitchen where her father was a grocer. Her family later moved to 88th street in Yorkville and she attended Julia Richmond High School.

At 11 years old, she demonstrated musical interest in the piano. Although her family had neither the room nor the funds to purchase one in their apartment, her father constructed one from a piece of wood with painted keys. One day while in the St. Illuminator's Church balcony, where the organ was then located, she began playing a current tune. Unbeknownst to her, the parish priest was in the church and overheard the tune and asked her to start to play for Sunday services. Thus began her illustrious voluntary career for 70 plus years as the devoted organist for St. Illuminator's Cathedral.

Through the church choir, she met Vahe Ishkanian and they were married at St. Illuminator's on July 1st, 1951. Five months earlier, Vahe had been drafted into the U.S. Army, where he served in active duty in Korea. Upon his return, they began their 55 years of married life together, raising their family but always keeping the church paramount in their lives. Julia continued to work full-time in Manhattan while being a devoted mother to her two children, Linda and Gary. She was also an active participant in the Ladies Auxiliary, Mr. And Mrs. Club and an instrumental participant in the formation of the first Armenian Prelacy with Khoren Vehapar. She maintained close personal friendships with many of the Prelacy clergy over the years, including His Holiness Aram 1, whom she often called on the telephone. 

Although uncomfortable with any form of praise or recognition, Julia did things both lovingly and with a genuine desire to serve. She will be remembered as a devoted wife, daughter, sister, mother, mother-in-law and grandmother.

Julia is survived by her daughter, Linda, husband Edward Munshower, and their daughter, Mary, along with her son Gary, wife Andrea, and their children Ariana, Nicholas, and Matthew. Julia's beloved husband, Vahe, passed away in 2006.
 
May God bless her forever.