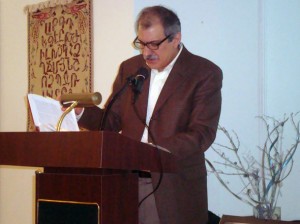 The fourth of the six-part Prelacy Lenten program took place last night, March 14, at St. Illuminator's Cathedral in New York City, presided over by His Grace Bishop Anoushavan, Vicar General. Dn. Shant Kazanjian, Director of the Prelacy's Armenian Religious Education Council (AREC), spoke on "Bible Readings in the Armenian Church during Great Lent, Holy Week and Eastertide."
Dn. Shant briefly discussed the origin and the practice of reading Scriptures during church services, and then focused on the central role the Bible has in the Armenian Church, as clearly evidenced in the copious readings in the Armenian Church lectionary (Jashots Keerk, the book that contains the prescribed readings from the Bible for each day), particularly during Great Lent, Holy Week and Eastertide. (To see the daily Bible readings in the Armenian Apostolic Church, please visit www.armenianprelacy.org).
The program began with the Lenten Service (Husgoom) from 7:30-8:00pm, followed by the lecture and Q/A (8:00-8:45pm), and concluded with table fellowship.
Next Wednesday, Rev. Fr. Nareg Terterian, Pastor of St. Sarkis Armenian Church (NY), will speak on "Morality in the New Testament."