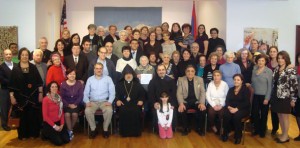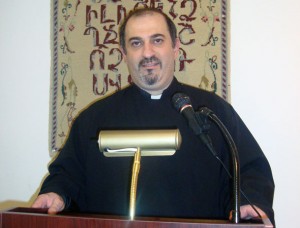 Yesterday evening, March 28, the six-part Prelacy Lenten program concluded, presided by His Eminence Archbishop Oshagan. The lecturer was Rev. Fr. Mesrob Lakissian, pastor of St. Illuminator's Cathedral in New York City, his topic: "'The Book' and books."
Fr. Mesrob first spoke about the 500th anniversary of the Armenian printing press ("books"), highlighting its history, its key players, its significance for strengthening the identity and the cultural values of the Armenian people, and its contribution to the mission of the Church. He then spoke about "The Book," the "Bible," the most important publication. A lively discussion ensued after Der Mesrob's informative lecture.
The program began with the Lenten Service (Husgoom) from 7:30-8:00pm, followed by the lecture and Q/A (8:00-8:45pm), and concluded with table fellowship. The Lenten program is sponsored by the Prelacy Ladies Guild (PLG), the Ladies Guild of St. Illuminator's Cathedral, and the Prelacy's Armenian Religious Education Council (AREC).