A Fundraising Breakfast took place last Saturday at St. Illuminator's Cathedral in New York City. The Breakfast began with Der Voghormya (Lord Have Mercy), and a prayer offered by the Cathedral's pastor, Rev. Fr. Mesrob Lakissian that said in part, "Lord, bring peace and stability to our world and especially to Syria, and restore justice among your creatures, true justice that comes only from You. By the mystery of Your All-Powerful and miraculous Holy Cross, transform the world's pain and devastation into new life and hope."
Der Hayr spoke about the significance and importance of the Syrian Armenian community and asked everyone to contribute to the humanitarian relief efforts.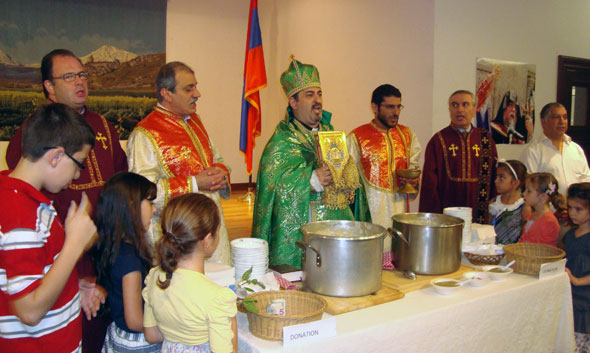 Seven-year-old Taleen Lakissian, daughter of Der Mesrob and Yn. Ojen, set a good example by donating her filled "piggy bank," to the relief fund. About $5,000 was raised during the breakfast.