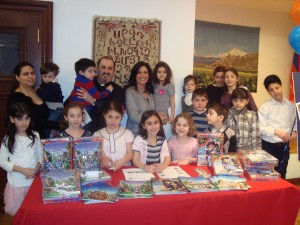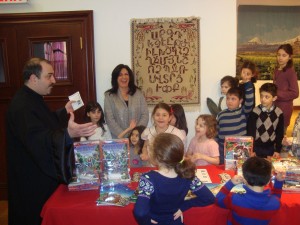 On Sunday, March 4, St. Illuminator's Armenian Apostolic Cathedral hosted a book reading by children's book author Talene Dadian White. Surrounded by a group of about 30 children of various ages, Dadian White explained her connection with St. Illuminator's Cathedral and her passion for writing. She told them how her parents and grandparents grew up going to the Cathedral and she was so happy to again be under its roof.
For the reading, Dadian White chose a book from her five-book series titled "Armenian-ized Classic Fairy Tale." The books are written in English with some Armenian words. The children enjoyed Dadian White read from the story called The Gurabia Man that comes from the classic story The Gingerbread Man. Dadian White often stopped to ask children what the Armenian words meant and was met with wildly waving hands excited to respond.
A portion of all sales were donated to the Cathedral's Armenian and Sunday Schools.
To order Talene Dadian White books please visit the Armenian Prelacy Book Store at Books@armenianprelacy.org or call 212-689-7810.